fine art prints
I am pleased to offer prints of various sizes of my images. Ordering prints is easy and can be done from my gallery and is highly encouraged. Web display just does not do justice as detail is lost in the compressed, smaller format (not to mention monitor calibration).
print and mounting options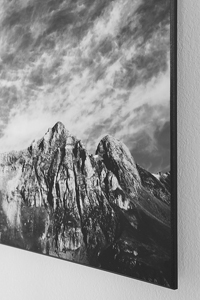 All of my prints are done on archival lustre paper expected to last over 100 years. My most economical option is to order the print only; however, I highly recommend getting it framed or mounted immediately. Not only will the print look better, it will last longer as it will be protected from dust, scratches, and UV light.
Three similar mounting options I offer include lite, float, and box mounts on wood. This is a process by which the archival print is mounted on medium density fiber board that is 3/8-inch thick using acid free dry mount material which is heat activated to permanently adhere to the board. This is then finished with a UV protective shield which protects the print from elements such as scuffs, scratches, UV light, and fingerprints. The lite mount is mounted flush against the wall while the float is mounted 1" from the wall to give it a "floating" look and the box has a 1.25" thick edge giving it a very nice look. All of these options come ready to hang, but I can only offer lite mounts up to 24" x 30".
The best option, in my opinion, is what I call FujiFlex on Acrylic. This process includes printing the photograph on a super high gloss FujiFlex paper and then mounted to the backside of 1/8" acrylic piece. The paper and acrylic combination gives the image a lot of depth and makes you feel a part of the scene. A float mount is then attached to the back to finish the mount. Because of the shine of the acrylic, this option is prone to fingerprints and scratches if not taken care of. I am able to offer FujiFlex on Acrylic with sizes at 24" x 30" and larger.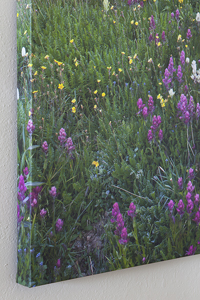 The final option I offer is a gallery wrap or canvas. The photos are printed on a canvas material using an inkjet process and then wrapped around a wooden frame and ready to hang. Gallery wraps also include a finish to protect the canvas from scuffs, scratches, cracking, UV light, and fingerprints. I am able to offer gallery wraps up to 40" x 60".
guarantee
All prints ordered from Jon LaBass Photography will be inspected prior to shipment. I only sign those prints which pass my inspection for any incorrect colors or blemishes so when you see my signature on your print you can be confident you have received an approved print. However, if for some reason you are not satisfied with your print (which I highly doubt), you may send it back to me within 10 days for a replacement or full refund provided it's received in resale condition. I will not guarantee prints that have been neglected or damaged due to incorrect storage. Of course, if the print is damaged upon receipt, I will replace it at no cost to you.