jeep cherokee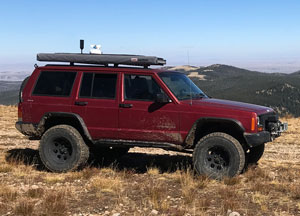 After moving to Colorado in the fall of 2006, I began exploring the state and the surrounding ones. My Saabaru works well for taking me to the local places and anywhere with a parking lot, but it wasn't until my first trip to the
San Juan Mountains
when I found out my car was insufficient to get me to the trailheads of the backcountry. This is when the decision was made to purchase a 4x4.
I originally purchased a Wrangler which was fantastic on the trails and fit my smaller lifestyle. However, in 2011 I replaced the Wrangler in favor of its bigger brother - the Cherokee - as it offered more cargo space which became highly desired.
This 1998 Jeep Cherokee is now my wilderness trail rig which is used for getting me to the trailheads and also for the sport of offroading. Here are the modifications I've made to it since purchasing it (I bought it with the 3" BDS lift):
relay/fuse box + accessories


January - February, 2017



With the addition of aftermarket accessories, I needed a good way to power them all and still have a factory look. So, I built my own wiring harness and plugged it into the switches and a new relay/fuse box.

cruise control


August 2016 - February 2017



One of the options available on the Cherokee was cruise control. Mine did not have the option from the factory, but the plumbing is already present so adding the option would be fairly simple.

power performance increase


August 10, 2015



Life has changed and I now have a trailer where I'm pulling about 2000 pounds. I wanted to squeeze out a bit more power from my 4.0L engine so I decided to put a cold air intake and performance exhaust on.

stereo system


April 2015



All four speakers worked when I bought the Cherokee. But, as time went on, I ended up having one and a half working speakers. So, I decided to upgrade the sound system to something I'd enjoy while driving.

split bench seat conversion


October 2014 - June 6, 2015



One of the things I do not like about the XJ is the rear seat is a full bench. So you can either carry people or stuff, but not both. So, I went to the junkyard and grabbed a complete set of seats from a Grand Cherokee (ZJ) and made them fit in the ...

driving lights install


October 25, 2014



When I bought the winch mount I also purchased a light mounting bar with the plan to add a set of fog lamps up front. Well, I finally got some lights, but they aren't fogs - they are driving lights.

cb radio install


October 06, 2014



My wheeling buddies and I decided to get CB radios to communicate with each other instead of two-way radios. A CB offers a lot of benefits such as increased range and uses vehicle power source. Two other features the radio I chose include weather information from NOAA and a 5w PA system.

door trim removal


July 14, 2012



My wife noticed the other day why my left rear door "sticks" when it's opening. The cause: the door trim is separating from the door and catching on the driver's door when opening. I had a few options to fix it.

jcr rock sliders


January 7, 2012



Whenever you're rock crawling, there's always the potential of hitting your rocker panel on a rock and incurring body damage. I decided to add some protection so I got some JCR Rock Sliders.

bushwacker flat fender flares


December 17-18, 2011



After I put on bigger tires, I ran into a problem with tire rubbing on the fender flares during articulation. After a lot of vacillating between downsizing the tires, changing the backspacing, and cutting the fenders, I finally made a decision.

winch mount


November 30, 2011



One of the best pieces of vehicle recovery equipment is a winch. Lifts, tires, and lockers are all nice, but you can still get stuck with them. A winch can pull you out of anything and help others, too.

jks swaybar quick disconnects


October 15, 2011



The swaybar is a very important piece of metal when driving on the streets as it helps to prevent your vehicle from swaying too far and rolling when you go around corners. However, this piece of metal is in the way when on technical trails.