jeep cherokee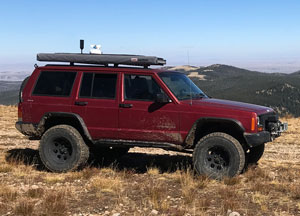 After moving to Colorado in the fall of 2006, I began exploring the state and the surrounding ones. My Saabaru works well for taking me to the local places and anywhere with a parking lot, but it wasn't until my first trip to the
San Juan Mountains
when I found out my car was insufficient to get me to the trailheads of the backcountry. This is when the decision was made to purchase a 4x4.
I originally purchased a Wrangler which was fantastic on the trails and fit my smaller lifestyle. However, in 2011 I replaced the Wrangler in favor of its bigger brother - the Cherokee - as it offered more cargo space which became highly desired.
This 1998 Jeep Cherokee is now my wilderness trail rig which is used for getting me to the trailheads and also for the sport of offroading. Here are the modifications I've made to it since purchasing it (I bought it with the 3" BDS lift):
surco roof rack


September 30, 2011



I like having a fullsize spare tire to rotate into the mix so all tires are the same. This does mean the spare tire will take up more room in the factory location - inside the cargo area. I opted to install a safari rack to carry the tire, recovery gear, and anything else I want.

mud terrain tires


September 26, 2011



The original tires on the Jeep were not the greatest for my needs. Because I intended to drive this vehicle primarily offroad, I opted to purchase some good offroad tires. The selected kind was 31x10.50R15 BFG Mud Terrain KM2.

maglite mounts


September 15, 2011



You never know what will happen while trekking the mountains and this is why I like to carry a Maglite flashlight in the Jeep. In order to keep it from rolling around, I've mounted it in a convenient location.